NAGAR
Thanks
All our visitors who helped us to reach to a new height..

100,000
Visitors mark on our website
www.nagar.org
and
For your love, support and trust, and
Give us opportunity to better serve all nagars, and
Bring us together
100,000+ Visitors mark on NAGAR website
1000+ Registered members in USA on NAGAR database
100+ Matrimony Advertisements on NAGAR website
10 Active Local Nagar Mandals in USA
10th Year of commitment for a
1 United NAGAR community
Jay Hatkesh!

Last July '07, we conducted an opinion poll and ask three questions. Here's summary of the results with our comments and requests.



91% approved the way NAGAR is moving forward to bring our community together.

We agree with remaining 9%, as we need to do more to meet your expectations, with your cooperation.

100% agreed that we all have to unite to better serve our community.
96% agreed to build a common platform for all nagar.

Let's work together and make joint efforts first to build a common platform for all nagars in USA before it's too late!!!
How it all got started?
8/29/86: Dhirubhai Buch, Arizona; a visionary nagar compiled a directory of all Nagars in USA



The first USA Nagars Directory was published in 1986/87

The Directory included 73 family information and was made available for $ 6.00??





1992-93: Dhirubhai Buch, Arizona published a second edition of the directory.



It covered families from US and Canada and listed 138 families for $ 6:00.



1/23/94: Michigan Nagar Mandal expanded Dhirubhai Buch's vision to create a New Nagar Database.



Dhirubhai Buch passed on his vision and responsibilities to create a New National Nagar Database to Divyang Pandit and Dhaval Kikani of Michigan Nagar Mandal.




11/3/94: Michigan Nagar Mandal launched a new broad scope directory project supported by USA wide nagar representatives.


"The Nagar Community Directory of North America, 1994-1995" was published on Diwali Day (11/3/94)

$ 15.00 directory listed 249 families with addendum


5/6/95: During Michigan Patotsav visit by Dr. Ashwin and Kalpanaben Nanavati of Baltimore, an idea was put forward to encourage Baltimore Nagar Mandal to host the first National Nagar Convention and Celebrate their 25th Patotsav in 1996.



Dr. Nanavati & Pandits organized July 4th '95 picnic in Baltimore, to discuss the idea with the Baltimore Nagar community.


2/24/96: An informal National Nagar Council (NNC), consisting of volunteer directory area representatives, was formed, to assist 5/26-28/96 Baltimore Convention, if needed.
June '96 - Baltimore Convention was successful with over 600 participants. However, it centered around local and religious focus.
Chicago delegation announced their interest for hosting the next convention, within one to two years.
Desired National momentum did not materialize.
Jan. 1997 - Michigan announced the next directory project to sustain the national interest.
"The Nagar Community Directory of America 1997" was published on 8/14/97.A $ 20 directory grew to 417 families now.
NNC published Three 'Naval Nagars' News Letters.
4/13/96 - Divyang Pundit visit to San Jose encouraged their leaders to consider hosting 2000 Convention, after Chicago.
Chicago Convention 'Town Hall' formally established NAGAR Inc. organization.
Dr. Manoj Desai, Harikrashna Majmudar and others in San Jose delegation announced their intention for the 2000 convention.
7/3/98 - After, Michigan transferred leadership to Chicago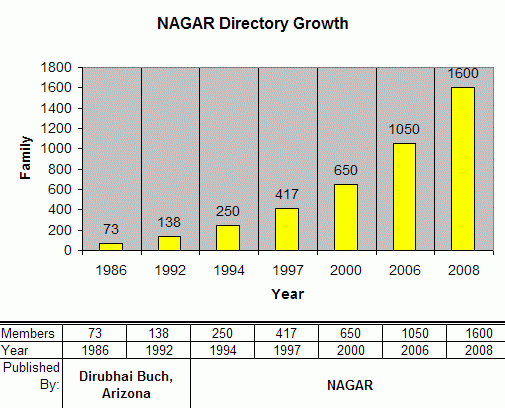 Thank you! to the global nagar community for helping us reach this milestone.
Here's to the next 100,000 visitors!