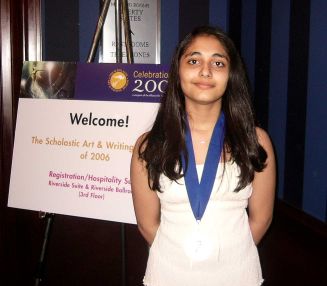 Moha, daughter of Bhargav and Jalashree Antani of New Jersey, a Grade 9 student at East Brunswick's Junior High school has won the National honours at the Scholastic Art and Writing Awards. The Awards were celebrated on the 8th of June 2006 at the World Famous Carnegie Hall in New York.
Moha received the Silver Award in Writing for her 44-page movie script "The Lorkshire Mystery". Moha was among the few students selected out of over 250,000 entries for the national awards (Gold and Silver) across the US.
Details of this program are here.
Congratulations to Moha from Mom, Dad, sister (Isha), Grandma (Nalini), uncle Mahesh Nanavaty and aunt Charuben Nanavaty!