Krushanu and Deeti Majmundar compete on Sa Re Ga Ma Pa Challenge USA 2008 from June 12, 2008…
June 9, 2008
"We want to thank you all for your best wishes, support and spreading the word around. It was great to get those words of encouragement and support from you." - Deeti and Krushanu
NAGAR congratulate couple for participation in the challenge. Watch their live performance on air beginning June 12, 2008.

Krushanu and Deeti Majmundar, a nagar couple of Ellicott City, Maryland and our active Executive Members of Nagar Association Maryland (NAM) are in Top 20 Contestants in Sa Re Ga Ma Pa Challenge USA 2008!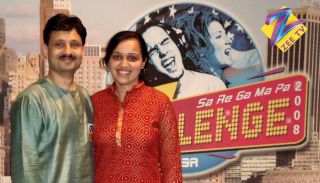 Click to see a larger photo
NAGAR and NAM congratulate the couple for being selected in Top 20 Contestants and convey their best wishes throughout the Challenge 2008!
LATEST UPDATE on Sa Re Ga Ma Pa Challenge 2008 :
Sa Re Ga Ma Pa Challenge USA 2008 just concluded its auditions in 4 different cities over mainland USA. Thousands registered for the process and the audition, conducted over 8 days will now generate the final list of contestants for the show which will be video shot in Dallas, Texas between May 15 to June 15, 2008.

Click at the following link for the list of the contestants:
contestants