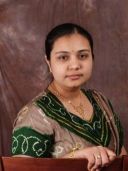 Namita Mankad
Namita Mankad, daughter of Bhuvnesh & Neelambari Mankad (Fairfax, Virginia) was recently promoted as Sr. System Engineer. She is working with Capital Legal Solutions, Falls Church Virginia. Her expertise is in litigation e-support, content management and e-discovery areas.
She is about to finish with her Masters in Information Technology from Virginia Tech, she did her BE in Computer from India with distinction.
Congratulations to Namita on her professional achievement.