North South Senior Spelling Bee National Champion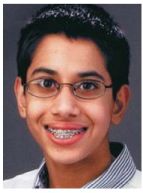 It is with great honour and pleasure to announce that our Grandson Master Nilesh Raval was declared a National Champion in Senior Spelling Bee Competition. He won the first prize and was awarded a big trophy plus $1,000 Scholarship.
The 2005 Senior Spelling Bee Competition Event was organized under the auspices of North South Foundation. It took place on August 06, 2005 at North Western University, Evanston, IL.
We pray for the sincere Bleassings of the Citizens of the Nagar Community for his success in future.
- Mahendra & Kokila Joshi.
Our congratulations and best wishes for continued success to Nilesh.
The complete list of winners is on the
North South Foundation website.